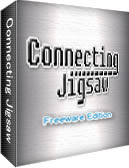 Requirements:
Win 3.0 CE, Pocket PC 2002 or Pocket PC 2003 Windows Mobile™ – based device with a StrongARM or Xscale processor, minimum of 4MB RAM.
" Easy! Fun! and FREE!!"


Connecting to the same picture! Solve the puzzle!
"Connecting Jigsaw" is a special Jigsaw puzzle game, every pieces of jigsaw must be connect to the same number (or the same picture). Player should put all nine pieces of jigsaw into the gameboard.


Game function features :
* Free!! Just download and play it!
* 3 Difficulty Skill Level
* Easy rules, easy to play.
.